How I got here
In the beginning, I had 4 legs. See?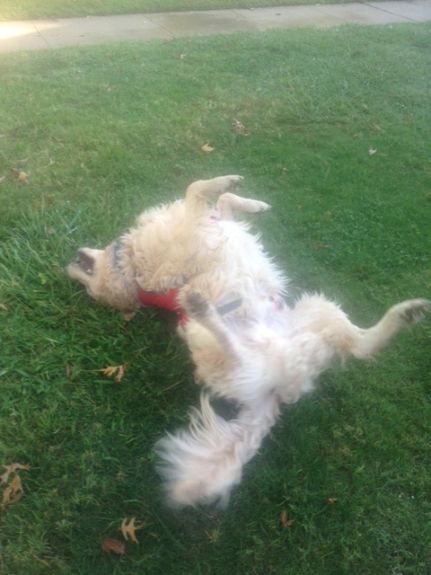 And I REALLY love to roll in the grass! Last August I started limping on my right front leg. Mom assumed I hurt myself being all crazy running around at the barn where we keep our horse. She gave me meloxicam and it got a little better, but I still limped so I got to visit the vet. I hate it there because they weigh me and tell me I'm fat and stick things in my ears. The vet poked around my leg and found a sore spot in my shoulder. He thought it was tendonitis so I had to rest and take more meloxicam. After 2 more weeks, I got WORSE, so back we went for x rays. This time, the vet cried when he showed mom my pictures. I knew it was bad when I got to eat a bunch of treats from the treat jar. I had a tumor in my proximal humerus (that's the top of my leg by the shoulder). My vet told us our choices were pretty limited and that amputation is the only way to get rid of the bone pain. He doesn't do surgery or oncology so we scheduled a second opinion from the UC Davis vet hospital oncology department.  In the meantime, he gave me tramadol (a narcotic) for the pain in addition to the meloxicam. For some reason, right after we found out I had cancer, my pain got so much worse! I was taking 3-4 tramadol every 6 hrs and still whining and unable to get comfortable :(. My limping was so bad I could barely make it outside to "do my business". Check out this video of me walking 3 days before surgery!
Learn more about my pre-cancer story on my About page and then read my next post to hear what we learned at UC Davis!
If you don't want to read through everything, at least take a look at the "post chemo thoughts and highlights" page for my recommendations on how to prepare and manage this journey.
9 Comments
By: rmmom on October 26, 2016 at 2:54 am

testing

By: megstamum on October 26, 2016 at 6:55 pm

Here is a comment on your blog!

Lol

Meg andClare (and Elsie Pie) xxx

By: linda8115 on October 26, 2016 at 7:08 pm

Oh Fionn you are a beauty! Loved reading your story you're a talented writer sweet girl. Moms right though it is hard to find where to leave a comment. I only got here after reading Meg's mums reply. Rest assured we are reading all your posts though and cheering you on!

By: megstamum on October 26, 2016 at 7:16 pm

From your name, I thought you were a girl, Fionn, but obviously I can see from your pictures that you are a very handsome boy. The reason I thought you were a girl, is because in Welsh, Fionn is a girl's name (pronounced Fee-on). It means Foxglove. But, as I learned from your about me page, it is also gaelic, (pronounced Finn) meaning bright and fair and it suits you down to the ground.

Lots of love,
Meg and Clare (and Elsie Pie) xxx

By: rmmom on October 28, 2016 at 2:37 am

I had no idea it was Welsh too! Everyone pronounces it Fee-on so he might as well be a Welsh girl 😉 Thanks for helping me figure out what was wrong with the comments on my pages 🙂

By: megstamum on October 26, 2016 at 7:22 pm

I am leaving this comment from my iphone… the plot thickens….

By: linda8115 on October 26, 2016 at 8:53 pm

So sorry I too thought you were a girl. Please forgive me but I now see you are a handsome boy.

By: admin on October 26, 2016 at 9:16 pm

Pawesome Pic! 🙂

Looks like comments are working…

By: Michelle on October 27, 2016 at 11:58 am

What a beautiful boy. Thank you for sharing your story with us. I love your name.

Michelle & Angel Sassy