Day 3- the poop wagon has landed!
Tripawds is a user-supported community. Thank you for your support!
I got up around 7 because I heard Fionn moving. He had just changed positions for the 100th time according to my daughter. I got him his tramadol and gabapentin and could hear his tummy rumbling. I'm not sure if he's hungry or we've got poo working it's way out. I haven't been so focused on poop since my girls were babies! After his meds, he got up and walked to his food bowl where he had a cup of food. Then, he hopped into my laundry room like he was heading out the dog door. Unfortunately, the way my house is set up, the dog door is on the opposite side of the house from my yard. There is a path behind my house, but it's a long way and all rocks. Not really conducive to a dog freshly learning how to hop on 3 legs. We have been going out the front door to my deck which overlooks the yard. We managed to turn him around and send him out the front door. He was booking it pretty fast, I was struggling to get shoes on and he was hopping down the deck. He got down the stairs so fast there was no time to "help" him and he hopped a few more feet and POOPED. Boy, was he motivated 🙂 Nice, big, normal poop. The he moved a few feet away and had a big pee. His urine looked a little yellower than normal, but did not smell as much as last night. His back legs started to collapse so I helped support him while he finished (didn't want him laying in his pee). Once he was done, he moved off a few more feet and POOPED AGAIN. Yay!! Then, he hopped back right past the stairs. I'm sure he was going the way he is used to, around the back and in the dog door. The stairs are hard for him I know. There are stairs going up to the dog door, but they are shorter and sloped more gently. They would be easier for him, it's just too far from the yard. That, and I don't think he's ready to maneuver through the dog door quite yet. I helped him up the stairs. It seems harder for him than going down. Whether that's due to being tired or just the mechanics I'm not sure. He was too tired to get all the way back in the house, so he laid on the deck for a bit to rest. It's chilly this morning and he's got a bare belly and side so I threw a blanket on him.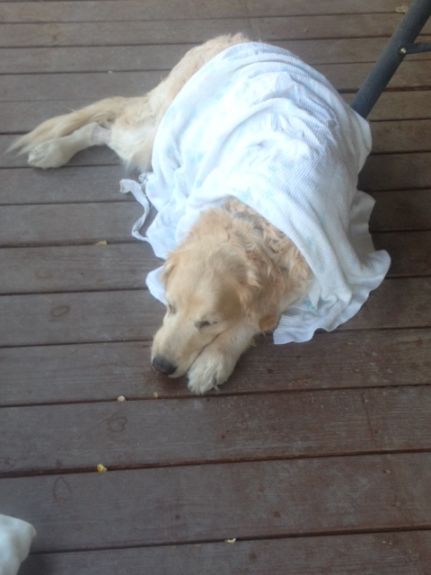 He stayed outside for about a 1/2 hour before coming back in. All the while the front door is open so we can hear him. Glad we live in California! He got as far as the couch and sat down. It turned out to be a handy leaning spot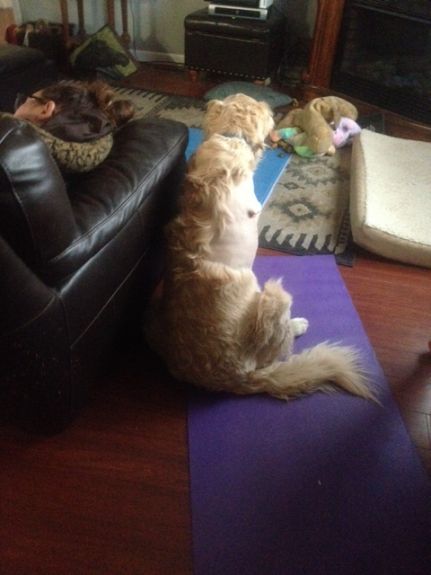 NOTE- another thing I wished I had tried before his surgery is a "potty patch" like they use for apartment dogs. I would have put it on my deck for these first days post op. It would have required some training because he is really set in his ways about the "proper" location for peeing and pooping. This is not a bad thing and I know dogs who would not have cared a whit about eliminating in the house if put in this situation, but it would have been easier on him until he gets stronger.
I decided to put a t shirt on him today. That way, if he lays down on the deck on his incision again it will be covered. He came close to going down in the dirt when he peed today too. So far there is no drainage, no seroma and very little bruising!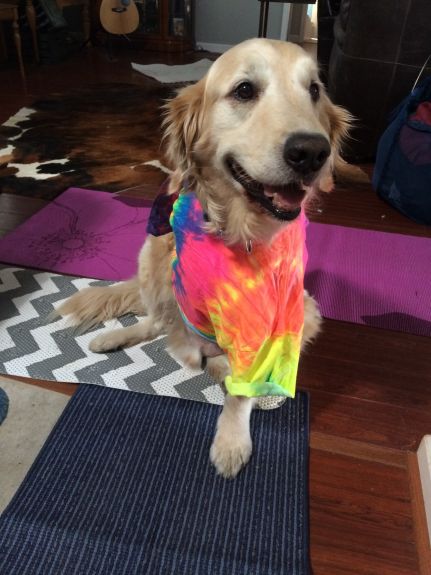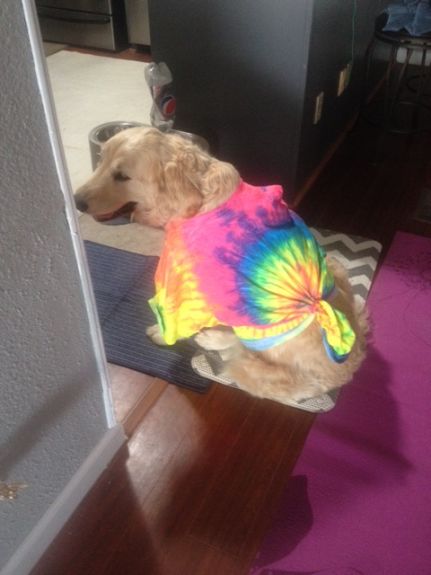 He ate some food (I'm very grateful his appetite has not been affected and he takes his meds easily- I now that's not the case with many post amp dogs) and had a good drink and promptly slept for most of the day. FYI- I do take him water to drink throughout the day. I want to make sure he stays hydrated since getting up is still hard. Food I make him eat from his bowl with the exception of his meds. If he's hungry, he eats.
In the evening, he seemed very loopy and his back legs would shake when he got up to re position himself. Not sure if it's the meds, so I'm going to try lowering his tramadol to 100mg from 150mg every 8 hrs. I really wanted him to go pee again. It had been over 12 hours! I wanted to go to bed too so I almost had to force him outside. He did pee, but not as much as I expected and he nose dived into the dirt and yelped. I felt terrible. I almost had to carry him up the stairs into the house with his sling and collar :(. I got him comfortable, gave him his meds and went to bed. He had basically collapsed just outside my room so I could hear him. The cat, who never sleeps with him and he is completely indifferent to, decided to hang out with him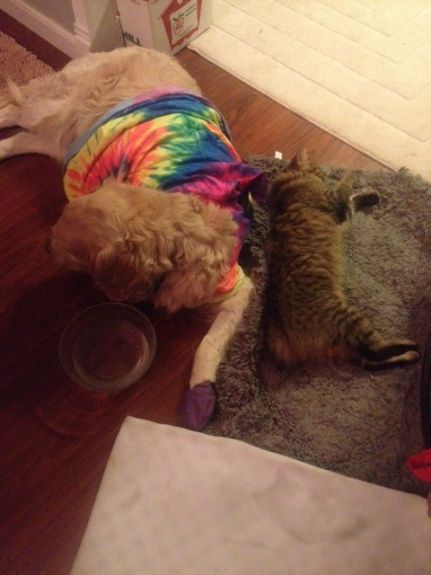 Very sweet. I put one of his rubber booties on since he chose to collapse in one of the few spots in the house NOT covered with a rug or yoga mat! That way, his foot won't slide when he sits up.
This journey has been full of challenges and we had our biggest one just after midnight on day 4. I can laugh about it now, but at the time? Not so much. So, stayed tuned for my Day 4 post. You won't want to miss it!